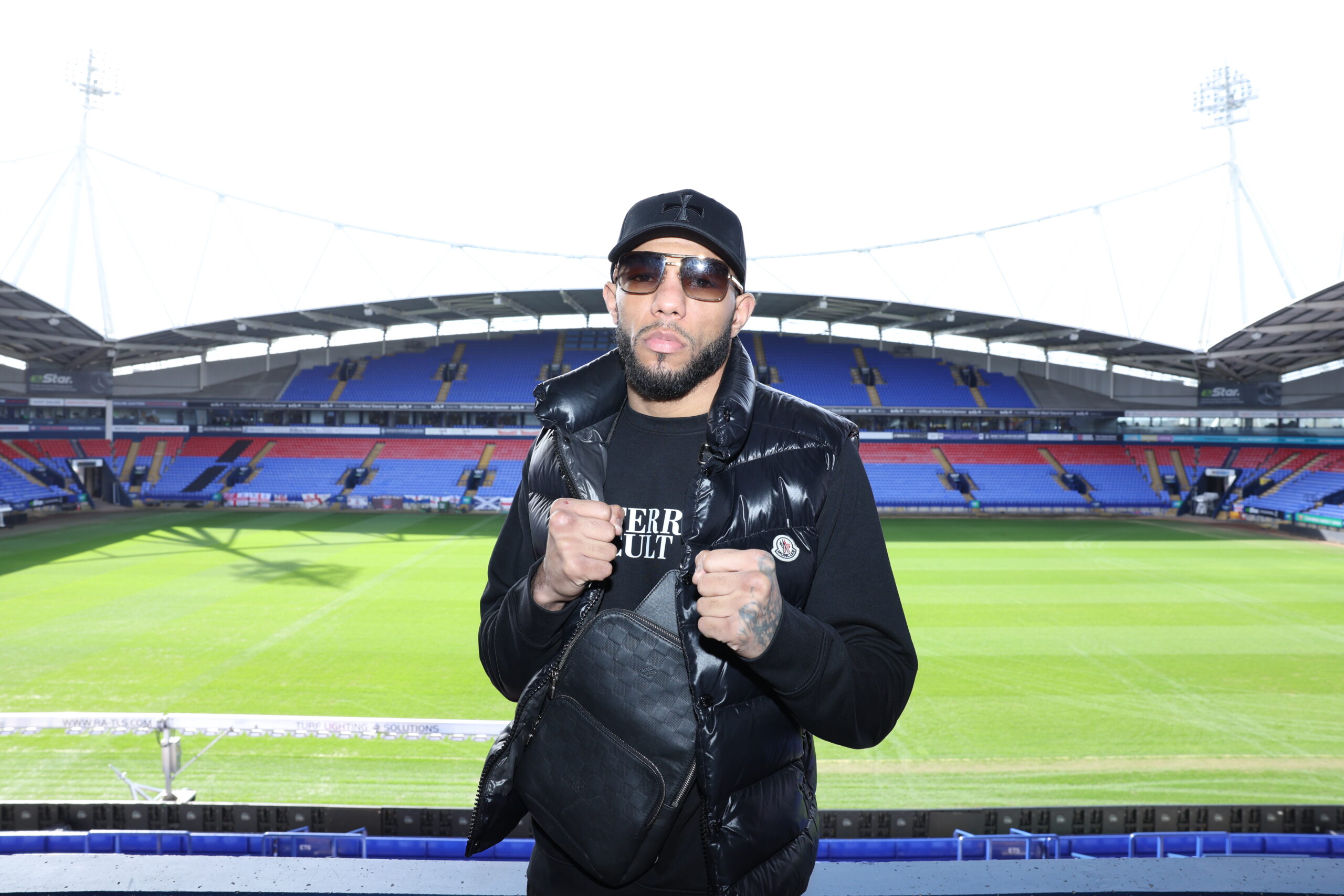 Lyndon Arthur warned as he faces late change of opponent live on Channel 5
Lyndon Arthur faces a last-minute change of opponent in Bolton after Braian Suarez failed a pre-fight medical. 
And late replacement, Boris Crighton has warned 'King' Arthur to expect an easy night at his peril, as the former sparring partners become rivals for real. 
Arthur was ready to lock horns with KO artist Suarez for the vacant IBO light heavyweight title at the University of Bolton Stadium, but medical issues meant the Argentinean was forced out and the supremely confident Crighton was drafted in. 
Crighton, nicknamed 'Blade', travelled from Glasgow last night and was brimming with confidence ahead of his big chance on the Wasserman Boxing show, live on Channel 5, from 10pm, in association with Ladbrokes, Numan and Infinitum Entertainment. 
Arthur knew victory over Suarez, and winning the IBO title, would put him in pole position to land huge fights with any number of the world's leading light heavyweight fighters. 
But to keep those dreams alive, the Manchester hero must deal with Crighton, a two-time Great Britain Amateur Championships winner and fighter determined to seize his golden chance. 
"This is a win-win for me, I'm in with a guy who fights at a weight that I don't normally fight at, and someone who has had a full camp to prepare for a world title, so this is no small feat I am looking at," Crighton said. 
"He is much bigger than me, but as the lighter man I will be faster, sharper and I have got that power regardless of whether I am at super middle or light heavy. 
"In those 10oz gloves, from super middleweight to light heavyweight, everybody has the power to put you down. Lyndon is not oblivious to that, and neither am I. The first few rounds will be like a chess match, but the middle rounds are where we are going to find out. The fifth, sixth and seventh will be where it gets exciting and where it will be make or break." 
Crighton, who was preparing for a fight next month, received the phone call on Thursday afternoon as he stepped out of a yoga class and instantly knew he had nothing to lose, and everything to gain, by accepting the offer. 
An upset win over Arthur would be "unimaginable" for his career and the 29-year-old, a double Scottish amateur champion, has promised his rival that he will bring the heat tonight. 
"I have sparred Lyndon before, it was good sparring and when you spar a high-level fighter like Lyndon, then the spars are like world championship fights – and that is how tonight is going to be.  I sparred Lyndon for the bout before he fought the rematch with Anthony Yarde and before the first fight with Yarde as well. 
"Lyndon won the Yarde fight with his jab; it is his prime weapon and if you allow him to get into a rhythm with his jab then he will control the fight." 
Wasserman Boxing return for their opening event of the year and delivers an action-packed undercard featuring 50-50 fights, a title eliminator and a host of national and international stars.  
Formidable flyweight Chloe Watson is one to watch and she aims to continue her march to the top of the sport, with a six-round showdown in Bolton.  
Kane Gardner and Conah Walker engage in a fiery looking super lightweight tussle with James Moorcroft facing Nathan Bennett in an English title eliminator which is being tipped to steal the show.  
The first bell is at 17:45.