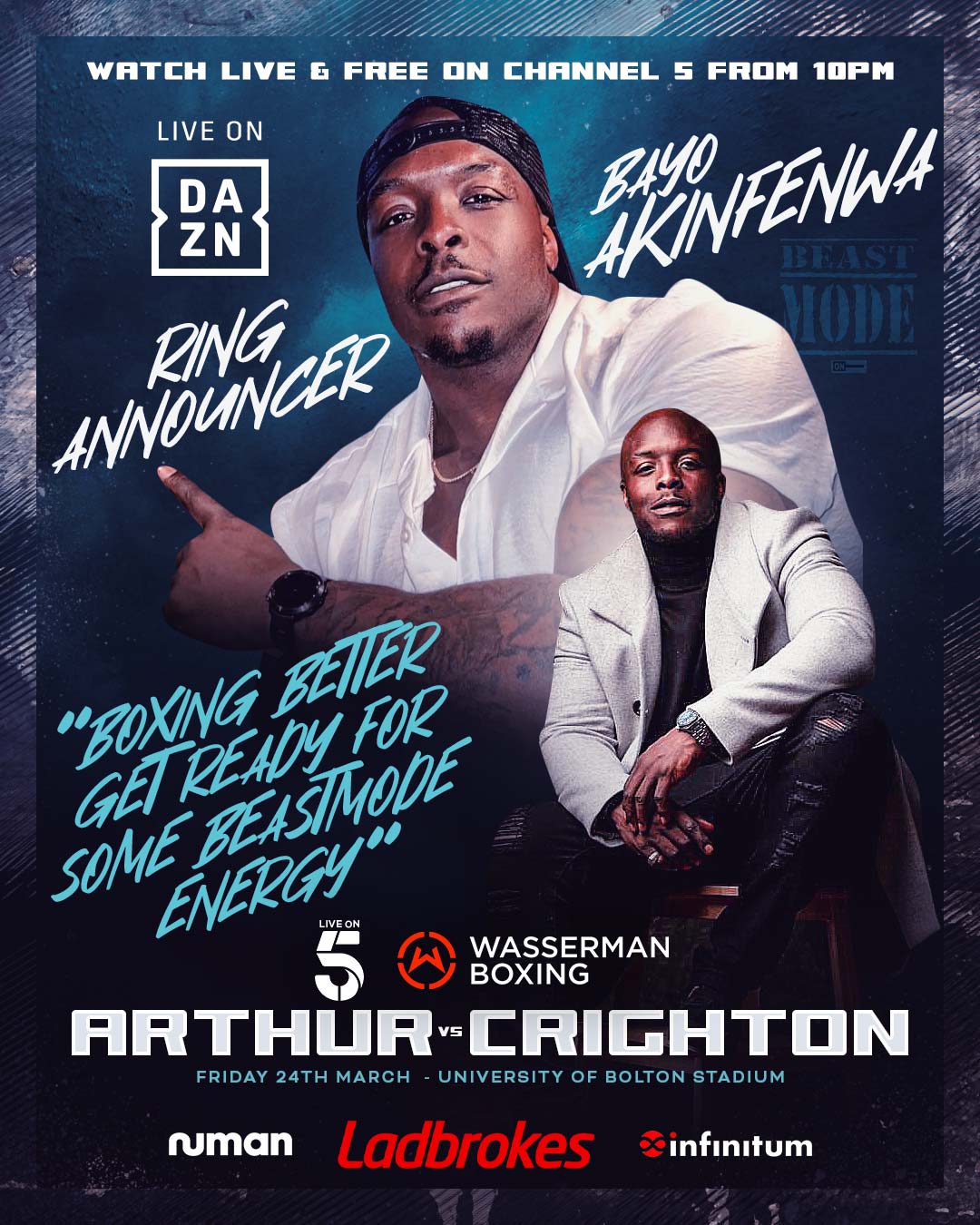 Football legend Adebayo Akinfenwa to become new voice of big time boxing on Channel 5
Boxing is heading into Beast Mode. 
English football's biggest cult hero Adebayo Akinfenwa is the new voice of boxing, live on Channel 5, after signing up with Wasserman Boxing, to become the MC for tonight's huge show in Bolton. 
Akinfewa, known to football fans around the world as 'The Beast', will kick-off his ring announcing journey as Lyndon Arthur faces the dangerous late replacement Boris Crighton live in front of a huge audience on free-to-air TV, in association with Ladbrokes, Numan and Infinitum Entertainment. 
The larger-than-life former striker played almost 800 times, and scored over 200 goals, in a career that saw him become one of the game's most colourful and recognised characters. 
Described by Pep Guardiola as a "legend of English football", the iconic Akinfenwa will now bring his booming voice and heavyweight personality to the boxing ring. 
"Boxing better get ready for some Beast Mode energy" roared Akinfenwa  
"When I retired from football last year, I made it clear that I wanted to try my hand at a lot of different things, and being a big-time boxing MC was top of that list. 
"Everyone knows I'm a huge boxing fan and I cannot wait to bring my Beast energy to Bolton on Friday night, on a huge night for Lyndon Arthur, live on Channel 5, with Wasserman Boxing. 
"The atmosphere on Friday night is going to be electric and I cannot wait to announce the fighters to the ring." 
Akinfenwa, known as the strongest striker in the world during his playing days, amassed a huge army of followers because of his footballing exploits but hopes to win new fans by stepping through the ropes, and picking up the mic. 
"Big time boxing on Channel 5 just got a whole lot bigger!" buzzed Wasserman Head of Global Boxing, Kalle Sauerland. 
"We are thrilled to have Adebayo announcing the fighters to ring, live on Channel 5, on Friday night and the Beast Mode energy he is going to bring will crank up the excitement levels for Lyndon Arthur's dangerous fight against Crighton. 
"Adebayo became a huge fan favourite in football and we know the boxing fans are going to love him!" 
Lyndon Arthur vs Boris Crighton is live and free-to-air on Channel 5 at 10pm on Friday, March 24. 
Tickets are available from wassermanboxing.com