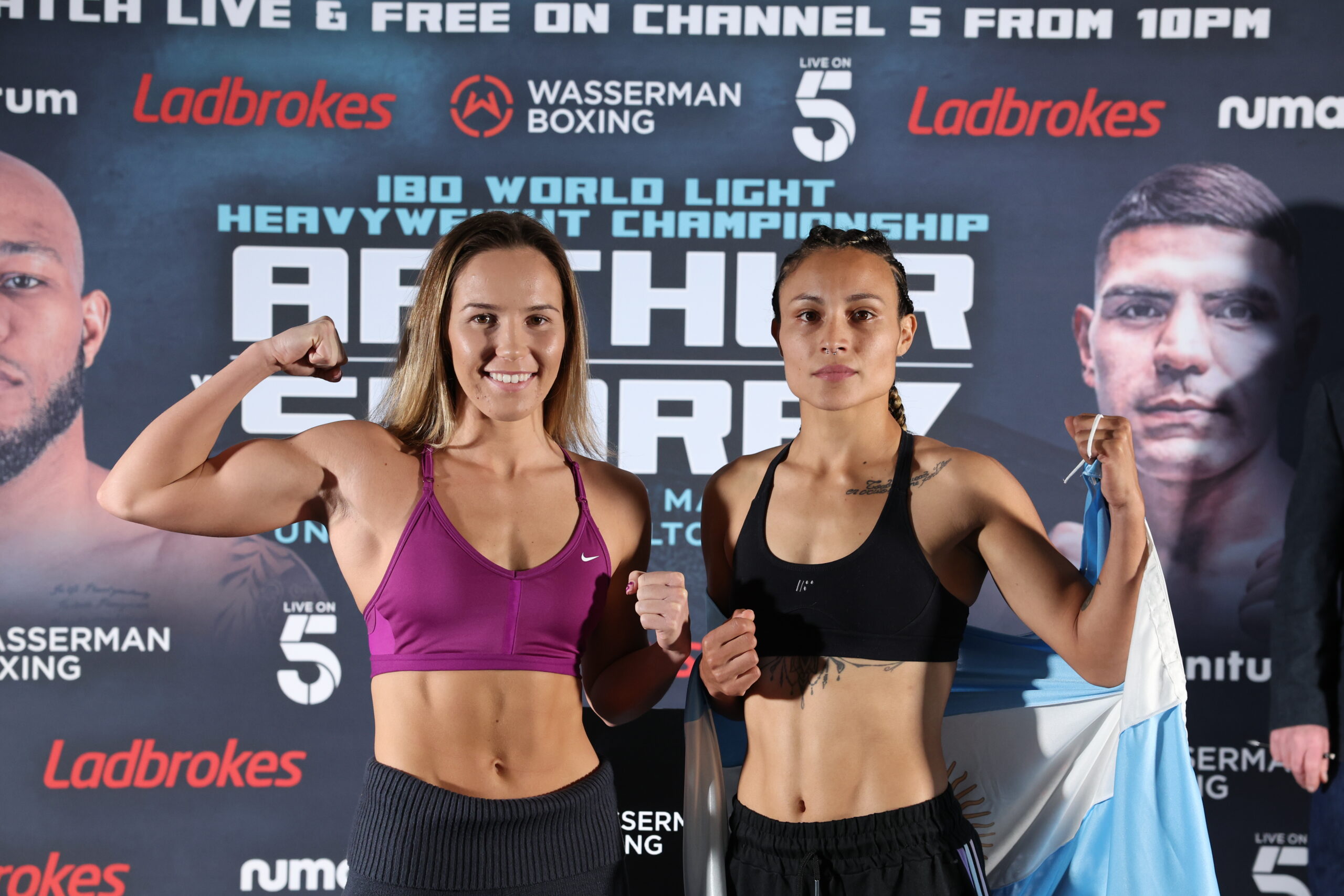 Full Undercard Weigh-In Results from Bolton As Female Star Chloe Watson And Others Prepare For Channel 5 Show
The return of 'King' Lyndon Arthur in Bolton tonight is supported by an undercard that packs a punch.
Wasserman Boxing stage their opening show of 2023 at the University of Bolton Stadium and the 12-fight card delivers 50-50 contests, a title eliminator as well as national and international stars.
The main card, topped by light heavyweight puncher Arthur, is live and free-to-air on Channel 5, from 10pm, in association with Ladbrokes, Numan and Infinitum Entertainment.
The first bell tonight is at 17:45. 
 Full undercard weigh-in results: 
4 Rounds Welterweight contest 
Bobby Faulkner 143.8lbs 
Georgi Velichkov 143.4lbs 
8 Rounds Super Featherweight contest 
Sultan Zaurbek 133.3lbs 
Facundo Arce 131.9lbs 
4 Rounds Lightweight contest  
Alex Murphy 143.1lbs 
Liam Fox 142.4lbs 
8 Rounds Lightweight contest  
Katharina Thanderz 139.7lbs 
Ioana Fecioru 140.6lbs 
4 Rounds Middleweight contest 
Oliver Zaren 166.9lbs 
Frane Radnic 168.9lbs 
8 Rounds Middleweight contest 
Denis Radovan 161.1lbs 
Fouad El Masaoudi 162lbs 
6 Rounds Middleweight contest  
Niall Brown 160.7lbs 
Bahadur Karami 161.4lbs 
ENGLISH WELTERWEIGHT TITLE FINAL ELIMINATOR – 10 Rounds 
James Moorcroft 146.6lbs 
Nathan Bennett 146.2lbs 
8 Rounds Super Lightweight contest 
Conah Walker 141.8lbs 
Kane Gardner 140.5lbs 
6 Rounds Flyweight contest  
Chloe Watson 113.5lbs 
Romina Sosa 110.5lbs  
LIVE FLOAT 
4 Rounds Welterweight contest 
Ashley Marron 149.2lbs 
Daryl Pearce 150.3lbs