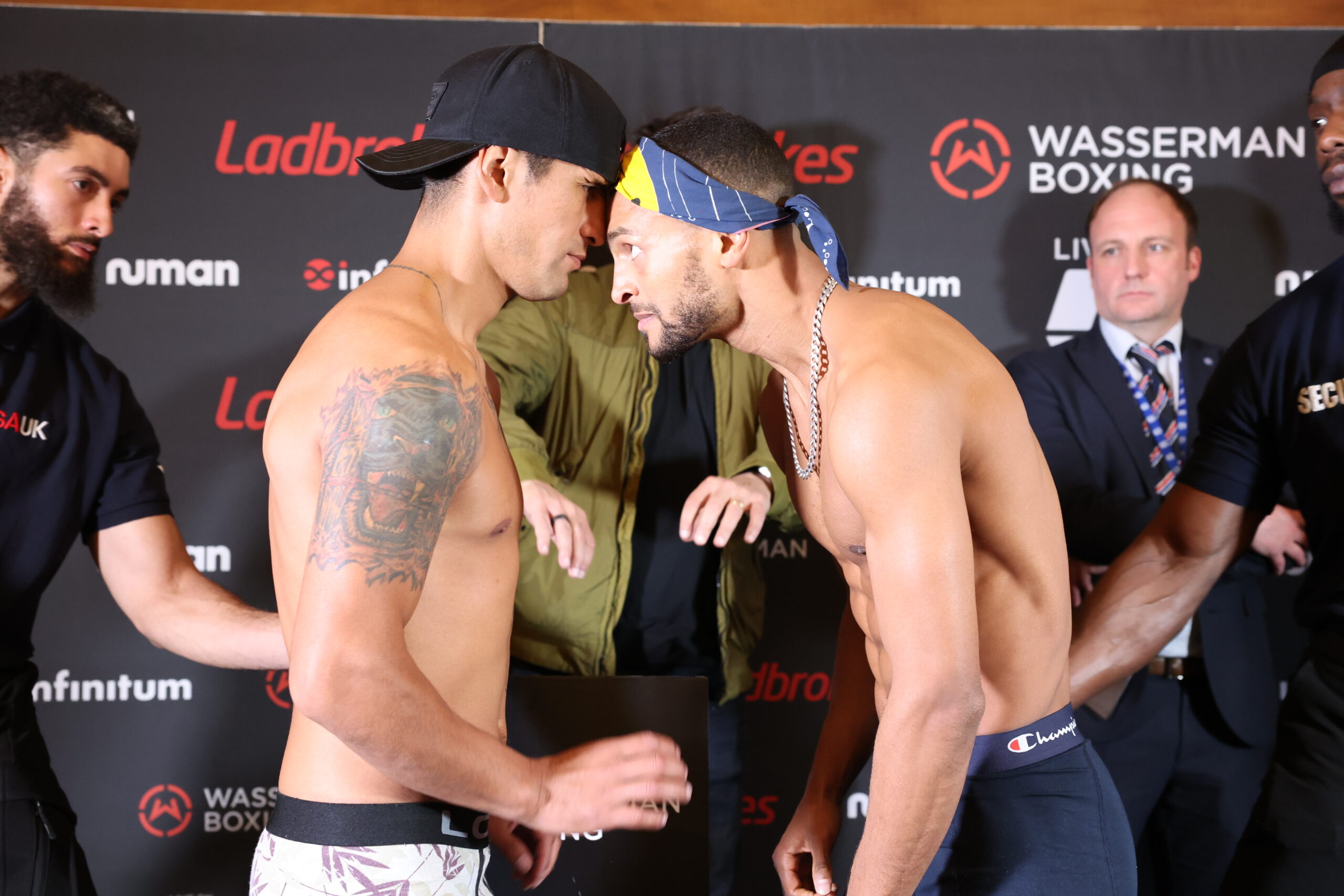 Harlem Eubank weigh-in results and running order
Tensions ran high as Harlem Eubank squared off against late replacement Miguel Antin for the first time when the pair hit the scales. 
Eubank headlines the Wasserman Boxing show at York Hall on Friday, live and free-to-air on Channel 5, from 10pm.
The unbeaten Brighton man was due to face Christian Uruzquieta but illness has forced the Mexican out of action.
Eubank will now face Argentina's Miguel Antin and the rivals came face-to-face on Thursday night for the weigh-in.
First bell on Friday night is 19:00. 
4 Rounds Super Welterweight contest 
Jurrell Patterson – weigh-in tomorrow
Vasif Mamedov – weigh-in tomorrow
6 Rounds Super Welterweight contest 
Lorenzo Grasso 157.4lbs
Charlie Sheldon 153.14lbs
6 Rounds Super Welterweight contest 
Jake Henty 148.13lbs
Petar Aleksandrov 151.7lbs
6 Rounds Featherweight contest 
Sophie Alisch 124.13lbs
Gemma Ruegg 125.12lbs
8 Rounds Super Welterweight contest  
Abass Baraou 155.6lbs
Ferenc Katona 156.1lbs
4 Rounds Featherweight contest 
Codie Smith 126.3lbs
Luca Genovese 126.13lbs
4 Rounds Super Lightweight contest 
Jesse Brandon 140.1lbs
Borja Lopez 142.15lbs
6 Rounds Heavyweight contest  
Matty Harris 261.3lbs
Milos Veletic 262.6lbs
10 Rounds Super Lightweight contest 
Harlem Eubank 142.13
Miguel Antin 146.3
10 Rounds Super Welterweight contest 
Harry Scarff 154.12lbs
Jordan Dujon 156.9lbs