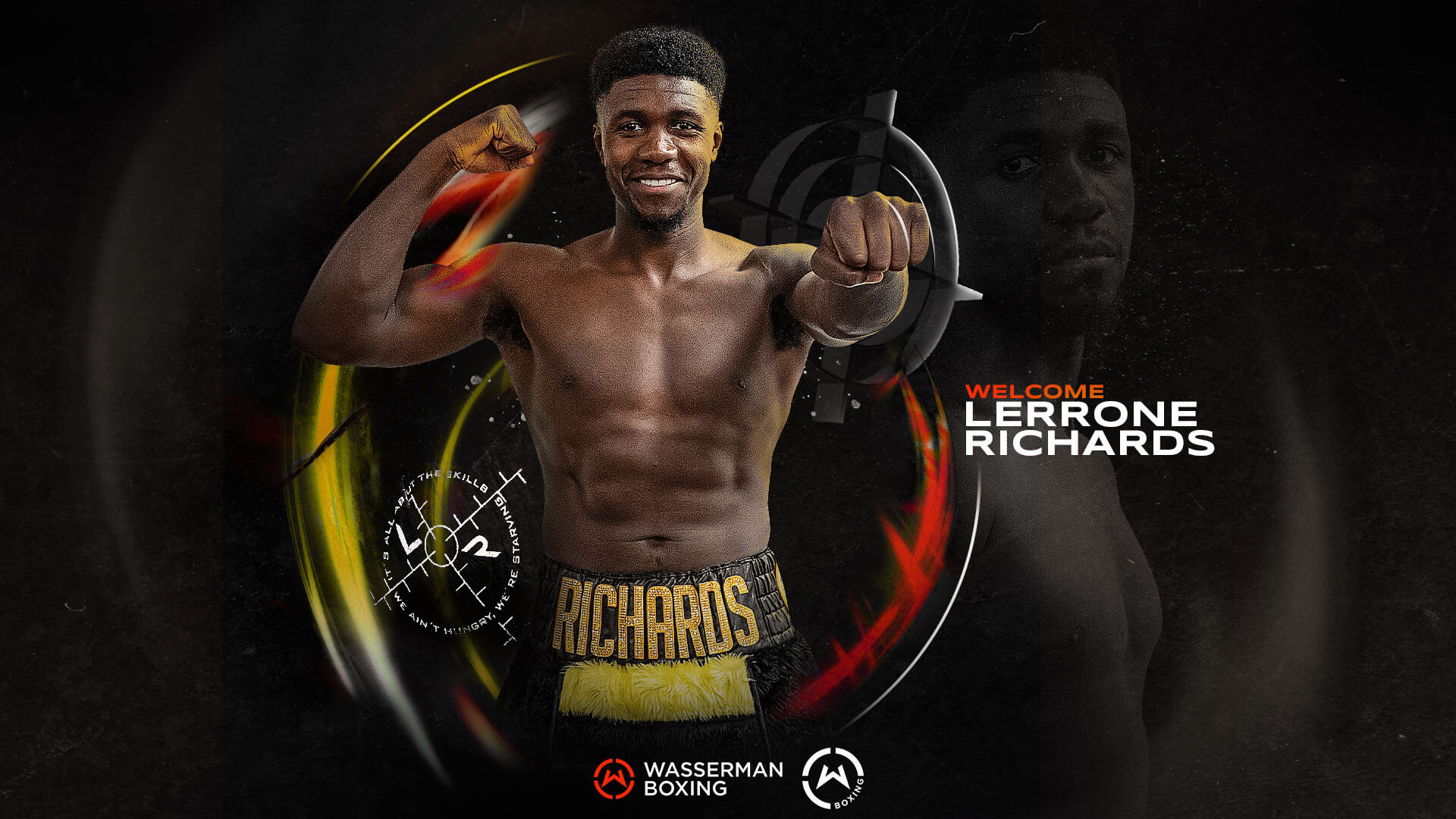 LERRONE RICHARDS SIGNS LONG-TERM PROMOTIONAL DEAL WITH WASSERMAN BOXING
Wasserman Boxing is delighted to announce the long-term promotional signing of unbeaten super middleweight star Lerrone Richards.
A former British, Commonwealth, European and IBO champion, Richards has joined forces with global promoters Wasserman Boxing to take his career to the next level.
The 31-year-old is the sleeping giant in the 168lbs division and will kick-start his pursuit of the leading contenders by boxing in Brighton, on November 10, live and free-to-air on Channel 5, as part of the huge homecoming night for Harlem Eubank.
Richards, known as Sniper The Boss, is laser focused on securing a spot as a mandatory challenger for one of the super middleweight world titles and says working with revered coach Grant Smith in Sheffield will see him add "more spice" to his performances.
Lerrone Richards said: "Both Kalle and Nisse Sauerland have a lot of experience at the highest level, and they are going to guide my career towards world titles.
"I've won the British, Commonwealth, European and IBO titles, so I've made all of the right steps, and now is the time to push on, and get into a mandatory challenger position."
Kalle Sauerland, Global Head of Boxing at Wasserman Boxing, said: "Don't sleep on Lerrone Richards because this is a man on a mission to win the world super middleweight title.
"Lerrone is slick, skillful and a proven champion with a resume that instantly marks him out as one of the leading contenders in the world.
"And so, Wasserman Boxing is thrilled to be given the opportunity to guide his career from this point and to help deliver that world title shot for one of British boxing's most accomplished fighters."
Richards, who had 91 bouts as an amateur and represented Great Britain, England and Ghana in the vested code, is excited about returning to action, in front of the nation on Channel 5.
Richards added: "It is time for The Sniper to be back and you are going to see more spice in what I'm doing and a lot more flavour.
"I'm not going to deviate from what I've been doing, as it's got me to this point, but there are still gears for me to go through.
"Channel 5 is my platform now and this is my chance to show my skills and bring big fights to a huge audience on free-to-air TV."