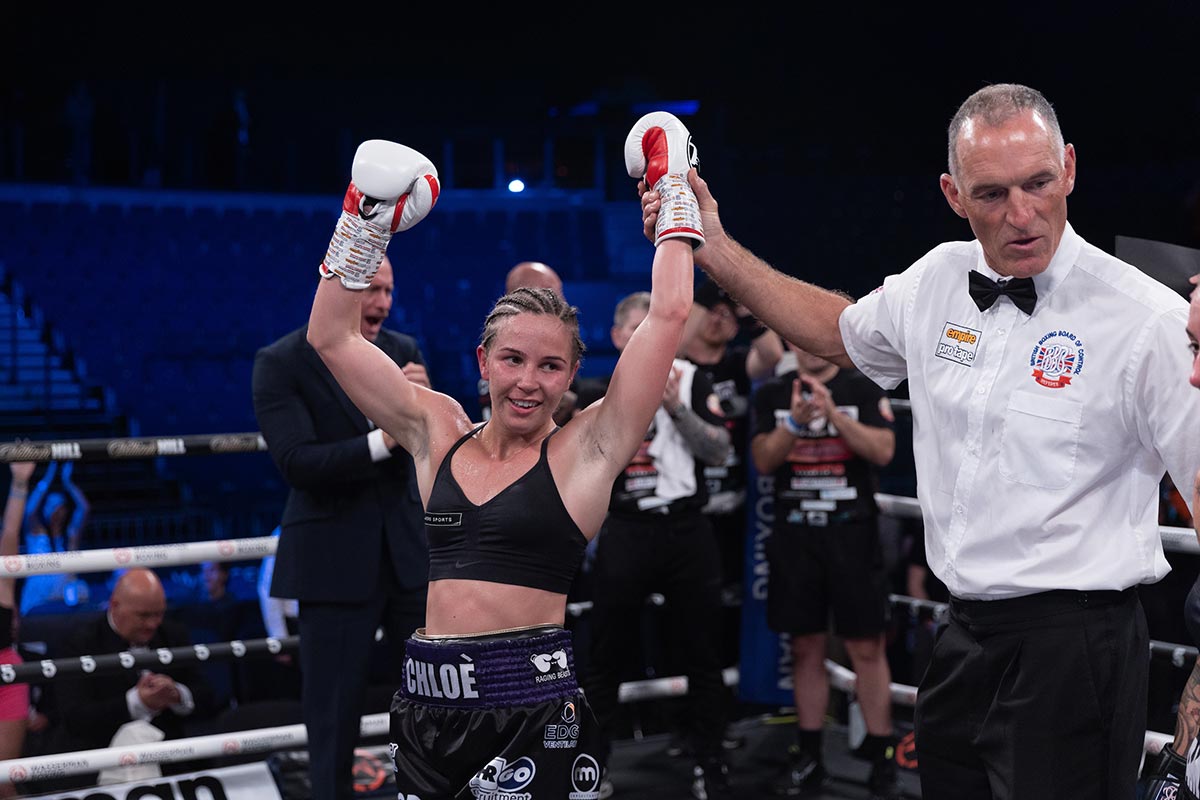 Watson: I've now got a path set out for me to become a World Champion
Chloe Watson (3-0) says she is ready to shine as the Birkenhead boxer prepares to step up in competition and take on the undefeated Spaniard Minerva Gutierrez (2-0, 1 KO) on her second York hall appearance, as part of a huge night of action at London's historic boxing venue on Friday November 25, live on Channel 5.
The former Team GB Flyweight returns after her terrestrial television win in her home city where Watson defeated Fara El Bousairi on Friday June 17 at the M&S Bank Arena, Liverpool, in what proved to be a 'Fight of the Night' contender. Watson's performance rightfully saw her stock rise, as the win rewarded her with the opportunity to face more talented opposition like Gutierrez.
"She's undefeated, and she'll be coming as the away fighter and wanting to cause an upset and get a big win," said Watson.
"There's no defeat on her record, so she'll only be coming to take another win back to Spain with her, but that's the approach we like. There's nothing to take from a fight when your opponent doesn't necessarily want to win, and they just show up."
"My last fight was very much the same type of fight against someone who wanted to come and win, and it reflects what I said before about taking fights against better opposition who are game," continued the former Team GB Flyweight. "I'm going to improve more when they come and want to bring it to me, and I know that I haven't just won but I've done it with a good performance in a fight that excites the fans."
The fight against Gutierrez not only signifies Watson's eagerness to face another tough fighter to enhance her progress, but also signifies an exact year since she debuted at York Hall on November 25 2021. One complete orbit of the sun has left Birkenhead's female boxing prospect rubbing her hands at the chance to show just how far she has developed during that time.
"When I debuted at York Hall in 2021 I had no idea what to expect, I was just taking everything in my stride and trying to soak up everything around me. Now I've got more experience and had a full year of being a professional in the bank; three wins and four camps later too," said Watson.
"I've gained a lot of knowledge from all the time spent in the gym with Ricky (Hatton) and Blain (Younis) since turning professional too, and from there I've now got a path set out for me to become a world champion one day."
"The plan is always to be stepping up in opposition in every fight i take, and to deliver the best Chloe Watson there is come fight night because that's what people want to see and that's what I work hard for. If I keep doing that, then I'm a happy fighter and I know I'm working well towards my goals."
A happy fighter is a dangerous fighter, and Watson continues to prove her potential with every second spent inside the boxing ring. With impressive performance upon impressive performance, she continues to validate the expectations placed on her to have a long and successful career in the sport. Such expectation can often burden fighters with a heavy weight upon their shoulders, but this is something that Watson thrives off and shows all her sacrifices have been worth it to reach this stage.
"I don't see any of this as pressure at all, it excites me. I've been boxing since I was 8-years-old and I've put a lot into this sport, but I also know I'm not the finished product yet by any means," she said.
"I am looking to make the necessary steps so, when I am the finished product, I will be achieving everything I've set out to achieve. I'm striving to reach these goals not just for me but for my coaches and my team as well as there's a lot of work that that goes into this by the people guiding me."
A part of the team backing Watson toward her world title aspirations are Wasserman Boxing, with whom the Flyweight has recently re-signed a new deal with the home of live and free boxing on Channel 5. The deal is testament to Watson's performances in the first year of her professional boxing life, and it was an easy decision to keep her smooth rise heading in an upward trajectory with everyone singing from the same hymn sheet.
"I feel like my first three fights have shown exactly what I can do and what my potential for the future is," said Watson.
"The best thing is both myself and the team at Wasserman are on the same page which was a big reason for me re-signing. When it's a clear agreement between me, my coaches, my team and Wasserman, then there's no doubt about the decision. Plus it's great to be a part of Channel 5 too and get the exposure with them."
Harlem Eubank (15-0, 6 KOs) and Tom Farrell (21-5, 5 KOs) headline at the historic York Hall on a huge night for British boxing, Friday November 25. Liam 'The Machine' Williams (24-4-1, 18 KOs) looks to remind everyone of his Middleweight prowess on an unbelievable night of action that also includes Ricky Hatton protégé and former Team GB Flyweight star Chloe Watson (3-0) against undefeated Spaniard Minerva Gutierrez (2-0, 1 KO), and Sweden's Lucy Wildheart (10-1, 4 KOs) as she makes a swift return to the ring at Featherweight at York Hall. Promoted by Wasserman Boxing in association with William Hill and Infinitum Entertainment, all the action will be shown live and free on Channel 5.