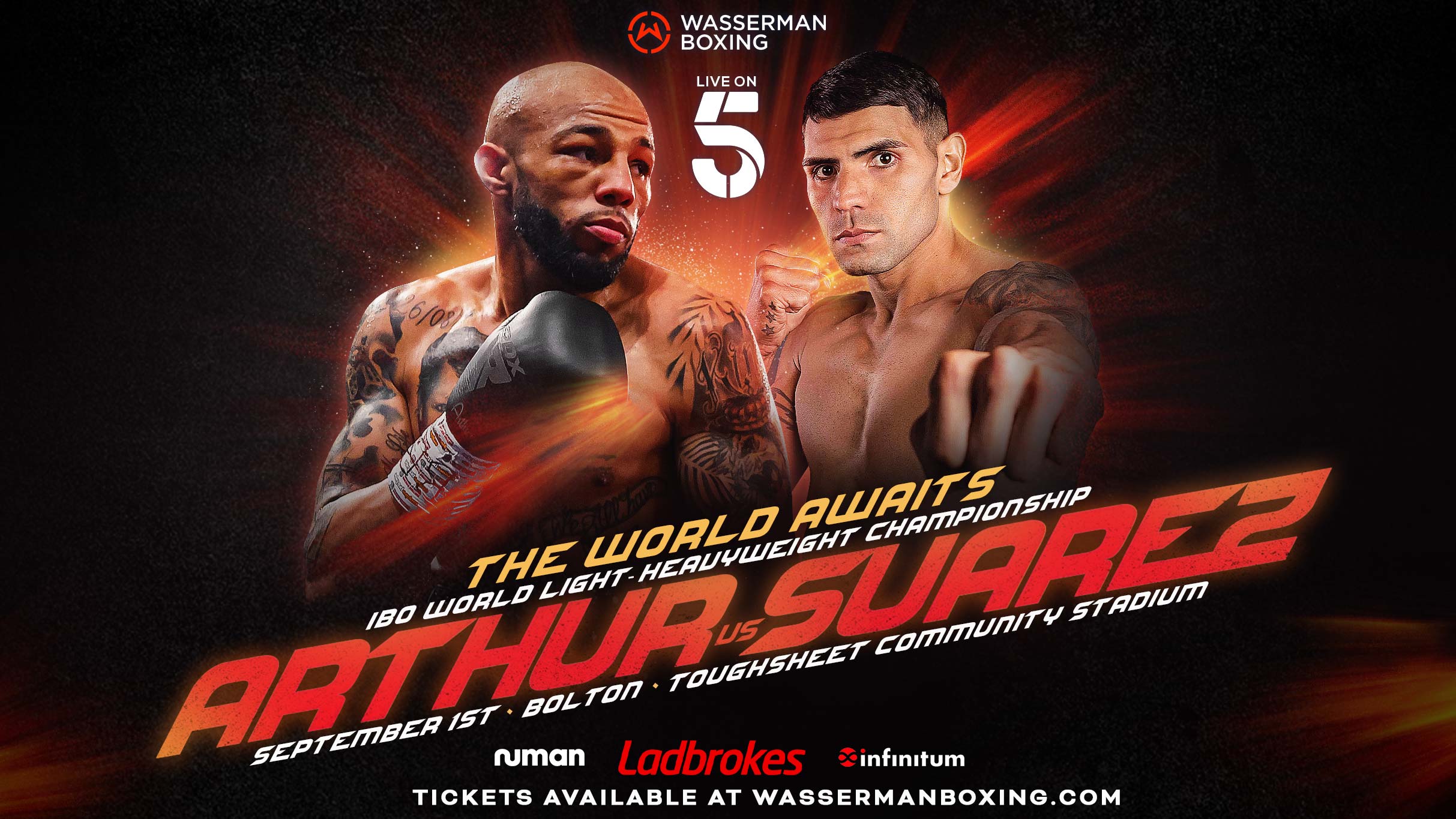 LYNDON ARTHUR TO FIGHT BRAIAN SUAREZ FOR IBO WORLD TITLE IN SEPTEMBER
Lyndon Arthur and Braian Suarez will battle it out for the vacant IBO world light heavyweight title on September 1, live and free-to-air on Channel 5. 
The rivals were due to square off in March, but a medical issue forced Argentina's Suarez to pull out, less than 24 hours before their showdown. 
'King' Arthur dealt with late replacement Boris Crighton the following evening, but his focus instantly switched back to the IBO belt – and getting his hands on Suarez as soon as possible. 
And Wasserman Boxing, in association with Ladbrokes, Numan and Infinitum Entertainment, have delivered the fight that has been on Arthur's mind for months. 
Victory for either man at the University of Bolton Stadium, this September, opens the door to some huge international fights and Manchester's Arthur has waited too long to let this golden opportunity slip through his fingers. 
Lyndon Arthur said: "This fight, and this opponent, have been on my mind since the start of the year. I have thought of little else so I can't wait to finally get in the ring with Suarez on September 1, defeat him and put the IBO world title around my waist. 
"This is a huge moment in my career because victory will open the door to some massive fights for me and for Manchester. 
"It's time for the coronation of King Arthur!" 
Ladbrokes Big Fight Odds
Lyndon Arthur – 1/10
Braian Suarez – 6/1
Draw – 20/1
Braian Suarez said: "You cannot begin to imagine the hurt I felt, when I was forced to withdraw from this fight in March. 
"But I have used the pain from that moment to push myself harder in the gym, and I return to Bolton, in September, an even better version of the fighter who was ready to fight Arthur a few months ago. 
"I was already very confident of victory but now, I am convinced of it."  
Kalle Sauerland, Global Head of Boxing at Wasserman Boxing, said: "The second Lyndon stepped out of the ring in March, there was one thing on his mind – Suarez. 
"It was the only fight he wanted, and we were determined to make sure the fight happened again, and that the IBO world title would still be on the line.  
"For the winner on September 1, the world awaits. It's a massive moment for both men and the delay has only added to the suspense.  
"Finally, later this year, they get it on!"