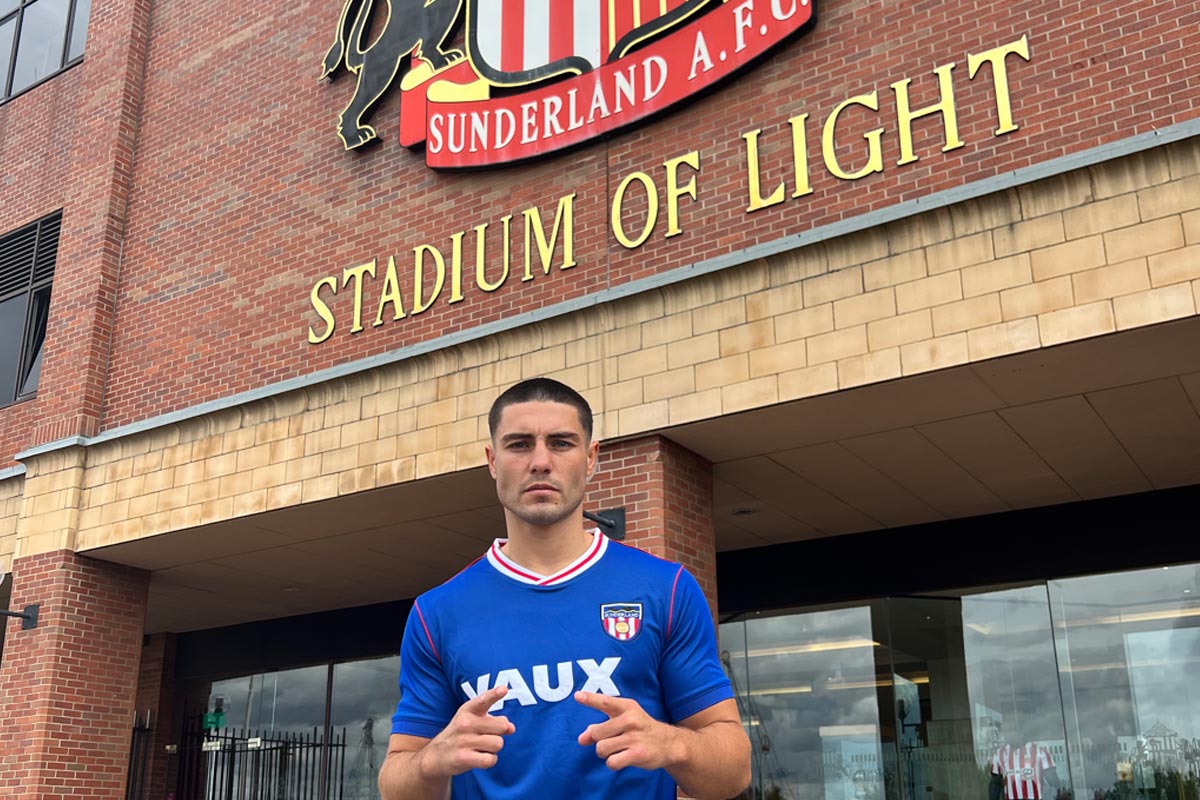 Kelly eyes dream Stadium of Light fight
Sunderland AFC's Dan Neil showed his support for Josh Kelly (11-1-1, 7 KOs) as they walked around the Stadium of Light together, reminiscing about sporting dreams and memories from the past, present, and for the future.
Kelly leads a star-studded line up as he continues his World Title pursuit with a mouth-watering clash against top Argentinian contender Lucas Bastida (18-1-1, 10 KOs) for the WBO International Super Welterweight Championship as part of a huge night of action on Saturday July 30 at the Vertu Motors Arena, live on Channel 5.
Kelly returned home ahead of his headline fight on the North East takeover card as he looks to claim the belt and move into the world rankings. A trip down memory lane at the home of his beloved Sunderland AFC reminded the former Olympian of where it all began and what he's fighting for.
"When I was a kid, I was playing for Sunderland," he said. "You have them aspirations to play for Sunderland and you think to yourself ' It could be me one day'. I was obviously doing my boxing side-by-side. When I was dieting to keep my weight down as a fighter, these kids were growing so much bigger and were so mature that I just couldn't keep up with them at football which led me to side with the boxing. I'm fighting now instead of football, but it's nice to be back (at the stadium)."
"The possibility of fighting here is mental. It felt a bit like a Conor McGregor moment when he mentioned manifesting all this stuff, I feel like it's starting to come to a head now. I've been thinking about fighting here for so long, I've got it written down and things like that."
"Walking out onto that pitch, I could see the place full up and it would be absolutely amazing. That would tick a massive box in my career if I could, it would be like a bucket list thing for me."
Sunderland's Dan Neil spoke in length about the comparisons and contrasts between the footballer and the boxer. The topic turned to weight and dieting, and it was a simple response for Neil when he was asked if he fancied the fighters diet.
"I don't fancy the cutting weight, definitely not," chuckled Neil. "I've seen videos of them cutting weight and it isn't for me one bit."
It wasn't only Neil's respect for Kelly's cutting regime that was apparent, as he could visibly see how game and prepared the Sunderland fighter was.
"I've had a good day with Josh. It's the first time I've met him, but it has been great."
"He seems very focused, he looks in great shape, he looks sharp, he looks ready," continued Neil. "We've been talking about his training camp and his weight and he's pretty much on point with it all, he just looks raring to go. Hopefully he can bring home the win."
To pack out this stadium is a very real possibility for Kelly, but first he's aiming to make it worthwhile by bringing a title the any potential stadium bout. He has never hidden his ambitions of world honours and being the number one of the division. His preparations have reflected his goals, surrounding himself with the elite.
"I'm mixing with the worlds best all the time in sparring, and I'm sharing the ring with all the top guys, and I can hold my own with everyone," he said. "I know where I'm at in the gym, I just need to do it on fight night now. I've got true belief in myself that everything that has happened is in the past and I'm moving on to some big things, especially at 154lbs. I feel so strong, and healthy and fit; just powerful at this weight."
Now the soundest he has been both body and mind, Kelly is thriving in this new chapter at Super Welterweight.  Helping him into this new division are his family and friends who have always backed the Sunderland fighter.
No greater reflection of this could be his grandparents, who joined him at the Stadium of Light as he was welcomed with open arms into the club as he talked about the city and what it means to him.
"My grandparents are a huge support, they've always been there for me."
"You walk the streets, and you feel like you're home. I know everywhere, and all the childhood memories come back to you."
It has been a nostalgic trip for Kelly as he looked back upon the journey that his lead him to this moment. A tough Argentine in Bastida looks to be one of his toughest tests to date, but the North East fighter remains confident that it is all about his performance on the night.
It was a superb display against the wily Peter Kramer last time out. This time, there is extra incentive with the WBO belt on the line, and a position in the rankings that leaves the world titles vividly in Kelly's sights.
"It's a WBO international title I'm fighting for and it gets you into the top 15, it gets you straight into them rankings," he said. "Once you start fighting amongst that then the belts start to appear in your sights. I believe I can push myself to the top and get myself into a mandatory position to get a shot at that world title."
"The best version of me beats the best version of him, so I just have to turn up."
The North East takeover is coming as Josh Kelly (11-1-1, 7 KOs) vs. Lucas Bastida (18- 1-1, 10 KOs) headline for the WBO International Super Welterweight Championship on an electric fight night. Olympic hero Pat McCormack (1-0, 1 KO) also stars, alongside Harlem Eubank (14-0, 6 KOs) as he continues his title charge against Mexico's Eliot Chavez (11-4-1, 6 KOs). Raza Hamza (16-0, 7 KOs) competes for the IBO International Featherweight Championship against Roberto Rodriguez Nucamendi (13-5, 10 KOs) before heavyweights Hosea Stewart (2-0) and Franklin Ignatius (4-0, 1 KO) guarantee fireworks. Top local talent such as 'Drago' Steve Robinson (4-1, 3 KOs), Kai Richmond (1-0), Ben Marksby (4-0), Lisa Whiteside (3-0, 1KO) and Jordan Barker-Porter (3-1) also feature on an unforgettable night in the North East. Wasserman Boxing heads to the Vertu Motors Arena in Newcastle for a massive night of free-to-air boxing on Saturday July 30, live on Channel 5 in association with William Hill, Numanand Infinitum Entertainment.