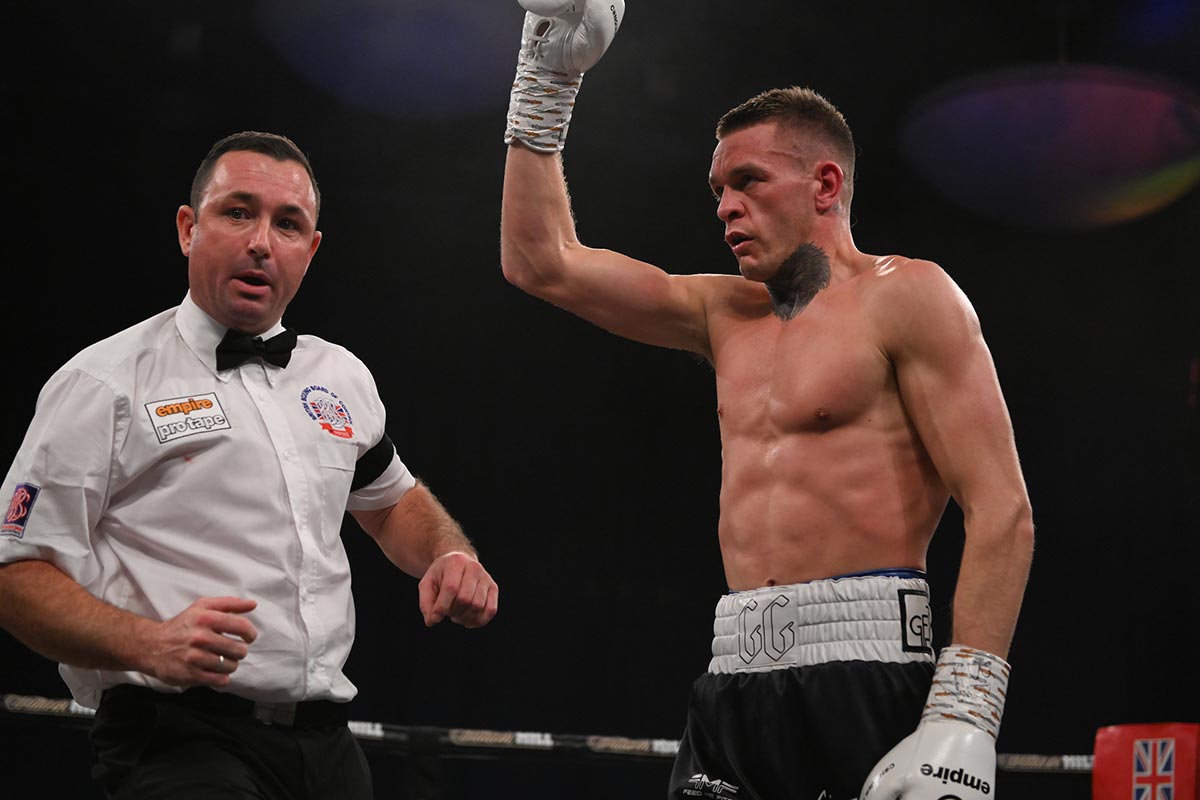 Gwynne: "He knows he can't afford to stand there and trade blows with me"
Gavin Gwynne (15-2, 3 KOs) will be looking to show his ownership of titles is something that possesses longevity as he looks to get through the first defence of his British Lightweight title at The University of Bolton Stadium on Saturday September 17, live on Channel 5.
April 2022 proved to be the year he would tick one of the boxes on his professional boxing bucket list when claiming gold at the historic York Hall, where Gwynne realised one of his dreams by adding the British Lightweight title to his Commonwealth title.
The man looking to prize away Gwynne's beloved titles is fellow-Welshman and familiar figure in Newport's Craig Woodruff (12-6, 4 KOs). Woodruff, someone who Gwynne has shared sparring sessions with before, has previously held both Welsh and Celtic Lightweight titles but is coming into this fight without any experience of battling for a British crown .
"It didn't sink in for the first couple of days, but the more I received messages from people congratulating me and having people notice me, the more it sunk in," said Gwynne. "It was one of my main goals when I first became a professional boxer, and I showed that by learning and developing you can achieve the dream."
"When I won the title, what a night it was. It means more than you can imagine so someone will have to do something seriously spectacular to take it out of my hands."
Experience is priceless especially in the ethos of current king Gwynne who, without taking losses against some of the best talent within the lightweight division, would not be where he is now. It is not just the champion's personal progression that favours him, but also the fact Woodruff enters unchartered British Title waters that could find him unable to swim with Gwynne.
"I think the pace I'm going to set will cause Craig some problems, especially when you add into the mix that he has never been in a championship fight for a title like the British one," said Gwynne. I've boxed at Commonwealth level and British level, and I just think it may be too unfamiliar for him. I know what he's going to do, and not to discuss any sparring sessions, but he knows he can't afford to stand there and trade blows with me."
If notes taken in the gym prove to come to fruition then the champion could be moving on to pastures new with Woodruff left by the wayside, and Gwynne building his his own legacy. Alongside the obvious accolades that fighters pursue, the champion wants to be remembered as a professional who cut no corners in his schooling as a fighter.
"I'm a fighter; I've always had the attitude that I would fight anyone, anywhere. I think you become a better fighter lacing up your gloves against quality, not like some modern prospects who can go to 15-0 without boxing anyone of a certain level."
"I've lost to two credible opponents," continued Gwynne. "Joe Cordina who is now a world champion, and the other loss to James Tennyson who has fought for world honours too. Those losses are invaluable, and it gave me that fire in my belly to train harder and work on all aspects of my game."
That fire represents a passionate aggression that burns brightly within him. Wanting to be remembered as an 'old-school fighter' is not only through his willingness to fight anybody, but in his physical approach when stamping his authority against anyone who wishes to come in and claim control of the ring.
It is setup to be a 'Fight of the Night' contender and the champion plans on carrying out the titles he walked in with as well as all the limelight from Bolton's big event. Aggression, sacrifice, will; he is fully committed to a complete performance and getting a win however he needs to achieve it.
"You must go in there to do damage and, with that, you have to be the one to stamp your authority and take charge," said Gwynne. "I've got a nickname of 'The Merthyr Mexican', and it's just down to my ruthless and aggressive approach. If I have to take two shots to dish out two of my own then so be it, I'm just prepared to give my everything."
"I'm really confident in getting the win and doing it in style. My hand being raised is the priority, my fists will do all the talking I need on fight night."
'King' Lydon Arthur (19-1, 13 KOs) is planning on an explosive return to the ring as he looks to tame the tough Argentine, Walter Gabriel Sequeira (25-9-1) in his pursuit of the Light Heavyweight throne. The current IBF International Heavyweight Champion, Nathan Gorman (19-1, 13 KOs), will also look to bring another powerful heavyweight performance alongside an all-Welsh affair to see who will leave with the British Lightweight belt between current champion Gavin Gwynne (15-2, 3 KOs) and Newport's Craig Woodruff (12-6, 4 KOs). Conah "The Wolf" Walker (11-1-1, 3 KOs) facing off against Kane Gardner (14-2, 7 KOs) is just one of many domestic bouts that will look to steal all the headlines as Wasserman Boxing hosts a massive night of free-to-air boxing live on Channel 5, in association with William Hill, Numan and Infinitum Entertainment.