Two of Germany's biggest boxing stars, the world ranked Denis Radovan (15-0-1, 7 KOs) and former two-weight World Champion Christina Hammer (27-1, 13 KOs) will headline a huge night of action at the Sartory-Saal in Cologne on Saturday May 7.
Radovan, who sits at #4 in the IBF World Middleweight rankings, can continue his push for world glory when he fights for the first time in his hometown of Cologne. The 29-year-old returns following a successful defence of his IBF European Title against British challenger Brian Rose on December 3, 2021.
"To finally get the chance to fight in front of my home fans in Cologne will be a great honour. Thank you to my promoter Wasserman Boxing for making this possible," said Radovan. "I will be well prepared to defend my title in front of lots of spectators at the Sartory-Saal on April 30."
Hammer is one of the most successful female boxers of all time. The 31-year-old from Dortmund held the WBO World Middleweight Title for an incredible nine-years, while also claiming the WBC World Middleweight and WBO World Super Middleweight belts during her reign. Returning to action after a TKO win over Daniele Bastieri, who dislocated her shoulder in the first round of their contest, 'Lady Hammer' has her sights set on recapturing world honours.
"I'm excited to get back in the ring," said Hammer. "I hope for a little longer this time after my opponent injured herself very early in my last fight. I need the challenge and activity to get closer to my goal of a fighting for the World Title again. I'm looking forward to boxing in Cologne, which is not far from my hometown so my fans from Dortmund will certainly be there to support me."
"Together with our partners we have set out to rejuvenate German boxing and this is already our third event within five months," said promoter Kalle Sauerland. "We have a deep connection to Cologne, the Sauerland Event boxing stable was founded here in 2000, and now we're excited to be back bringing a world class fight night to the city with local hero Denis Radovan as the main event."
Richard Schaefer, President of Probellum, adds: "This is the latest in a series of high-profile events we have been staging with Wasserman Boxing in Germany. With Denis Radovan and Christina Hammer we already have two fantastic athletes in action and with more exciting names to follow, this promises to be the best event yet. We are delighted to continue our partnership with Wasserman and to continue to deliver spectacular events for the German market."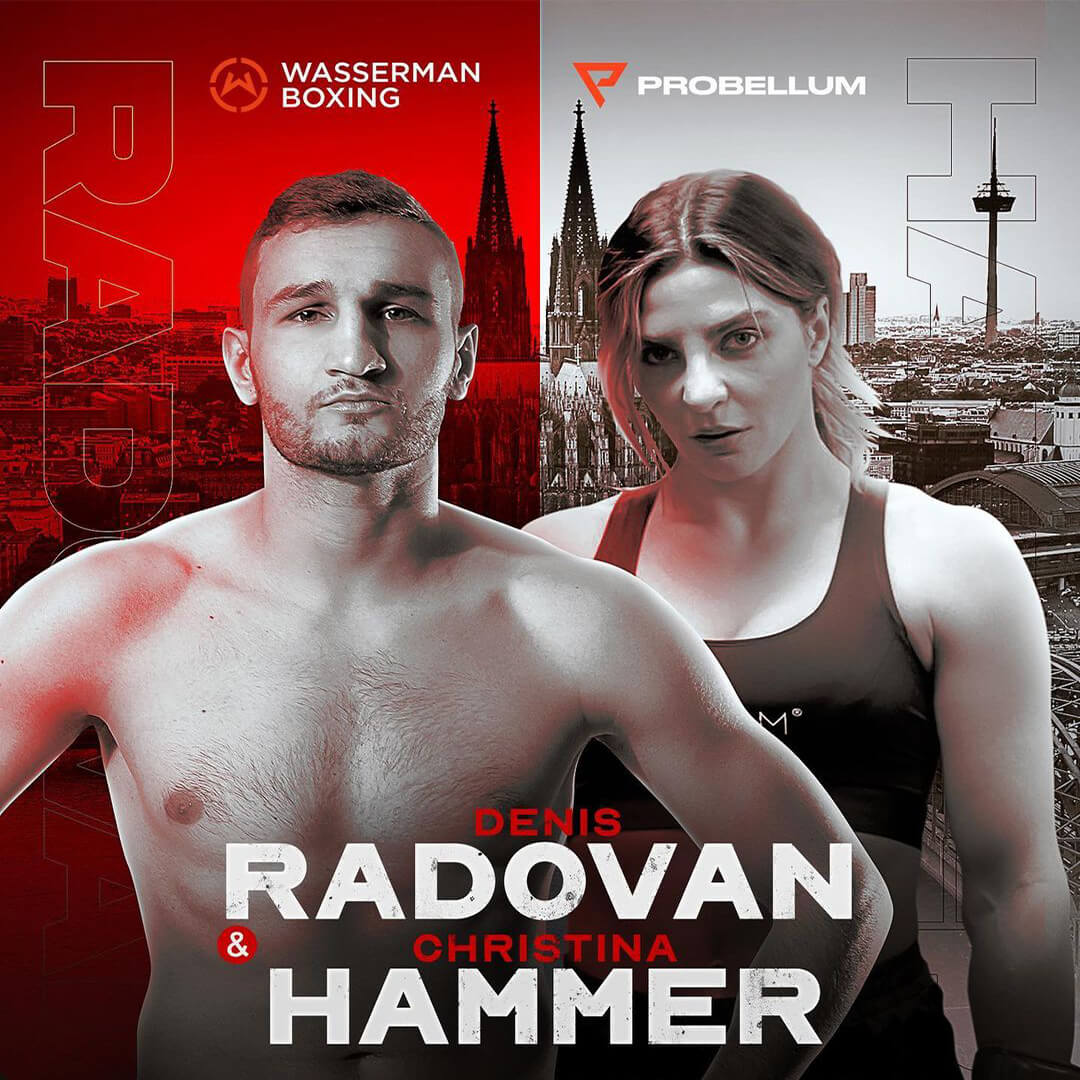 Radovan & Hammer
Apr 30 | Sartory-Saal, Cologne
Upcoming Events