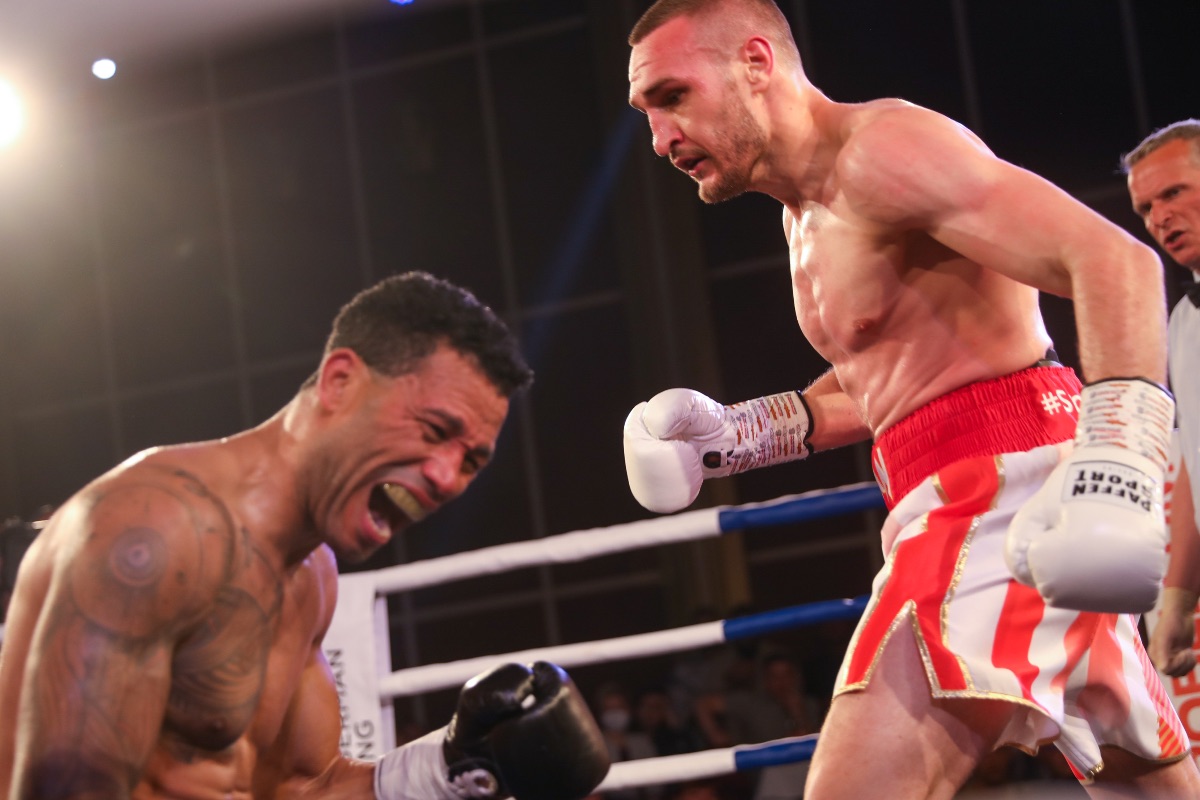 Denis Radovan and Christina Hammer celebrate wins in Cologne
Denis Radovan enjoyed a successful homecoming with a second round TKO win over the experienced Rafael Bejaran last night in front of frenetic fans at the Sartory Saal in Cologne, Germany. The atmosphere was electric for Radovan's first fight in his hometown, and the unbeaten middleweight surely delivered as he dropped his opponent three times in the second, forcing Bejaran's corner to throw in the towel. It was the third successful defense of the IBF European middleweight title for Radovan.
At the one minute mark of the second round, Radovan connected with a picture perfect left hook to the liver to floor Bejaran for the first time. The tough challenger got back to his feet, but never fully recovered and went down twice more in a span of 30 seconds before the towel came in.
"Respect to Rafael Bejaran. He was in great shape and gave me something to think about in the first round. He knew what he was doing," said Radovan. "But I saw the openings and I took advantage of them. I'm proud to have defended my title for the third time in front of my hometown fans and I'm excited about the future." When asked if he had a dream opponent, Radovan smiled and said: "It doesn't matter who I fight. I want to become world champion and that's what I live and breathe for."
Former longtime world champion Christina Hammer enjoyed an equally successful night at the Sartory Saal. Germany's most successful active female fighter thoroughly dominated Luiza Davydova en route to an eight-round unanimous decision win. The two fighters engaged in a toe-to-toe battle for most of the rounds, but it was Hammer who landed the telling punches on her unorthodox opponent. The decision was merely a formality, as all three judges scored each and every round for the former champ – "Hammer-Time" in Cologne!
After the fight, Hammer was grateful for the amazing atmosphere at the arena: "I want to thank everyone who came out to watch the fights tonight. It's amazing to be fighting in front of all of you again," Hammer said. "There was definitely some ring rust for tonight, but I feel that I'm on the right path to get back to the top. I want to become world champion and win my titles back as soon as possible."
Promoter Kalle Sauerland was very satisfied with the Fight Night and the performance of all the Wasserman athletes – and managed to get a big laugh from a room full of journalists at the post-fight presser: "I gotta tell you, I was one meter away from the ring and Denis' liver hook still hurts me. All jokes aside, that was a picture perfect punch by Denis. Both him and Christina delivered today and both deserve a chance to become world champion. I'm confident that both will get that chance this year."
At the age of just 20, Sophie Alisch is regarded by many as one of the best prospects in boxing. In Cologne, she celebrated her eight win in as many professional fights as she decisioned tough Spaniard Eva Cantos over six rounds. Light heavyweight hopeful Leon Bunn made quick work of late replacement Islam Teffahi, stopping him with body shots in the second round. Highly talented Dane Oliver Zaren, a protégé of boxing legend Mikkel Kessler, dominated Novak Radulovic over six rounds en route to a unanimous decision win.